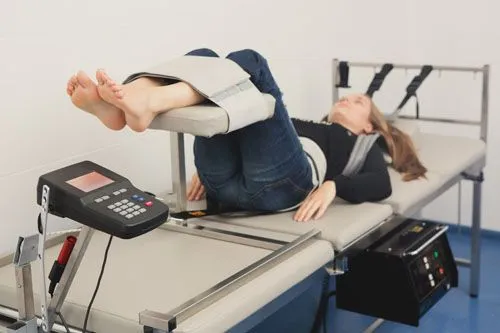 Chronic back or neck pain can make it hard to do even the simplest of tasks. People often experience pain from conditions like bulging or herniated disks in the spine, placing pressure on nerves and other spinal structures. One way to help alleviate some of the discomfort is to add spinal decompression therapy to your individualized treatment program.
Nonsurgical or surgical spinal decompression can reduce the pressure on affected areas and allow you to move with ease. Dr. Heath Nagel can tell you how spinal decompression may facilitate your recovery.
What to Expect from Spinal Decompression
Patients may be eligible for nonsurgical or surgical spinal decompression therapy. Non-surgical spinal decompression involves the use of motorized traction to stretch the spine. This gentle procedure reduces pressure on and may induce retraction of herniated and bulging disks. With less pressure on the area, the body may continue with the healing process.
Surgical spinal decompression is used for those with more serious cases. This alternative may be suggested for those with bony growths or ruptured disks. Types of surgical spinal decompression include Corpectomy, Laminotomy and Diskectomy. Dr. Nagel will clearly explain your surgical options and help you determine which one may work best for you.
The Benefits of Spinal Decompression
Non-surgical spinal decompression can complement a range of other therapies, such as massage therapy or acupuncture. This non-invasive therapy is often included as part of an effective treatment plan offering benefits like:
Improved oxygen, blood flow and movement of nutrients to an affected area, promoting healing.
Reduced pressure on injured disks often causing a retraction of bulging or herniated disks.
Decreased pressure on surrounding nerves and structures.
Being able to perform daily activities and exercises more easily.
Reduced pain in the back or neck.
Individuals may require a series of in-office treatments. Each session may last up to 45 minutes. Patients often experience less discomfort, inflammation and muscle tension soon after a session.
Surgical spinal decompression may be suggested depending on specific conditions and response to other therapies. There are inherent risks to any surgery which Dr. Nagel will explain. A patient may not feel immediate relief after surgery and may have to wait until the healing process is complete to notice a significant difference.
Our Team at True Wellness Chiropractic Can Help
For more information about spinal decompression, contact True Wellness Chiropractic at (260) 444-2080.
---
Spinal Decompression FAQ
Spinal decompression is a non-surgical therapy that uses advanced computerized technology to treat pain linked to nerve compression and disc issues. The treatment, which can be done by a chiropractor near me in Fort Wayne, IN, is an alternative to back surgery. At True Wellness Chiropractic, we have been sharing the benefits of chiropractic care with residents of Fort Wayne, IN for many years. Following are the answers to several questions our chiropractor frequently receives regarding spinal decompression.
What Can Spinal Decompression Treat?
Spinal decompression has been used to help alleviate low neck, back, and leg pain linked to pinched nerves, degenerating discs, back surgery, sciatica, bulging discs, and herniated discs. These conditions are known for causing chronic pain as well as tingling or numbness.
How Does Spinal Decompression Work?
Our chiropractor in Fort Wayne, IN performs spinal decompression using motorized traction to pull and stretch the spine at intervals. The pulling creates negative pressure, allowing herniated and bulging discs to retract back into place. By restoring the discs, you take the pressure off the irritated or pinched nerve and allow the nerve and disc to heal. Spinal decompression also improves circulation to injured tissues, allowing for faster and better healing.
How Long Does It Take to See Results?
Some people find relief after the first spinal adjustment session, but most people are going to need about 15 to 20 sessions spread over a month to six weeks. It will depend on your individual needs. Your pain should be gone by the end of your last session.
Is Spinal Decompression Safe?
Our chiropractor will go over the results of your diagnostic tests and your medical treatment to determine if the treatment is going to be right for you.
Who is a Good Candidate for Spinal Decompression?
Anyone who has been told they need surgery but want to avoid it or anyone who has failed to respond to other options, such as physical therapy or medications, but still wants to get pain relief should search for spinal decomp near me. It's not right for those who have broken vertebrae, or pregnant women. Our chiropractor will assess your musculoskeletal system to determine whether or not spinal decompression is right for you.
Schedule an Appointment with Our Chiropractor in Fort Wayne, IN
Call True Wellness Chiropractic today at (260) 444-2080 for more information on spinal decompression or to schedule an appointment with our chiropractor.
If you're living with any type of back pain, True Wellness Chiropracticis the place to go! After dealing with a herniated disc, I chose tohave a cortisone shot to help with the extreme pain of disc pushing on anerve versus surgery to have disc shaved down. The shot helped the pain,thankfully, but it did not solve the disc problem. Dr. Nagel knew justwhat to do for treatment...spine alignment, decompression table andstretching exercises. All these combined has helped to the point where Inow have little to no pain and my body overall feels so much better!!And when you're not in pain, it puts you in a WAY better mood!! Verythankful to the staff at True Wellness. They are professional,knowledgeable and truly want the best for your health.

...

- Sara. S. Show More

I am beyond impressed with this place. Everyone here is helpful andkind. I had severe lower back pain for months and problems with mysciatic nerve. I thought I'd give this place a try as I read thepositive reviews posted online. They found four compressed discs in mylower back due to years of working in a trailer factory. After severaldecompression sessions along with adjustments and therapy, I am amazedwith my results! I highly recommend True Wellness and their team! I willcontinue regular maintenance to avoid ever feeling that bad again.

...

- Cory N. Show More